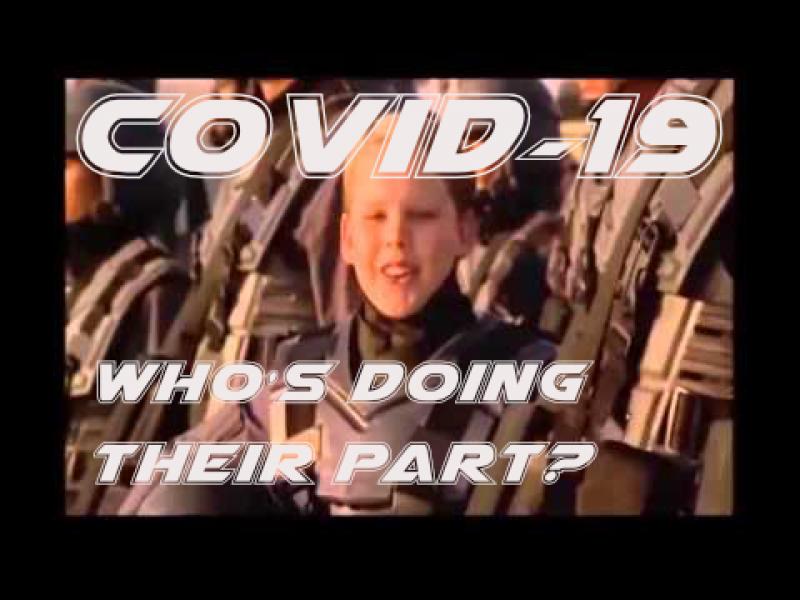 Hey my hopeful Vigilantes, I want to give a shout out to everyone on the front lines of this war. Firefighters, Nurses, Doctors, Respiratory Therapist, and so on are amazing heroes. These people aren't taking time off. They are the front line.
Sidenote: I just realized that this will be published on April 1st. This is in no way an April Fools Prank, nor will I be adding much humor (if any) to this post.
Our country is coming together in an unprecedented way. There has been so much tragic loss of life due to the covid-19 virus. As of the time of this writing, there are over 33,000 deaths.
We here at CryptoComics are urging you to please stay at home and stay safe. Social distancing is a must. This quarantine has hurt many businesses and artists but it is nothing compared to what would happen if there was no such order.
Comic conventions for the time being have all been shut down. Those cons are a great way for artists and writers to bring in new readers and a new audience. We too hit conventions for this reason. Due to the quarantine, we must stay home.
It's not all bad news
Our government has banded together with several large and unlikely businesses to combat this threat. Below is a video of the latest press conference. It is a little long but worth the watch.
I was in shock at how much the private sector has set aside profits in order to take care of our nation. Personally, what the Army Corps of Engineers has been able to do in such a short time brought a tear to my eye.
How are people pulling together?
Not just major businesses are stepping up to help out in this time of crisis. There are stars like Rihanna who donated $5 million to various organizations. Ryan Reynolds and Blake Lively have made considerable donations with a catch. They call out to everyone stating that if you are a fan of theirs, do what you can and also make a donation.
Several businesses like singer John Rich's "Redneck Bar" are now closed while he is continuing to pay his staff their usual wage so that they are able to stay home.
Lois Lane and Electra (Amy Adams and Jennifer Garner) have started an online campaign where they are reading stories to children. Joined by other various stars such as Ellen DeGeneres, Bachelor's Hanna Brown, Theory of Everything's Eddie Redmayne, and Thanos himself have all come together to read stories to children on Instagram and Facebook.
If you happen to be on Erie Road in the Columbus Ohio neighborhood, pull up to the cutest concert known to man.
On their front porch is 9 year old Taran Tien and his sister Calliope (6) these 2 are stranded at home due to school closures but they decided to still get out and make a difference. They pulled out their respective cello and began to play for people as they passed by.
This next one may not be a celebrity, but Mary Arnold is offering free art lessons in her new virtual classroom on Facebook Live during the coronavirus outbreak.
It doesn't end there. I found this great article on Parade simply titled "28+ Free Online Courses Being Offered During the Coronavirus Pandemic". As a teacher myself, I am encouraging my students to take part in several of these online lessons during their down time. Hell, I'm about to start the Rosetta Stone course. I always wanted to learn Spanish.
Final Thoughts
Now is the time to come together, even though we are forced to distance ourselves. Stay in touch with loved ones via Facetime and other video chat services. Offer whatever services you can.
Don't get sucked into the endless Netflix's "Quarantine and Chill". Read. We have a great selection of amazing comics on our marketplace. Even better, get inspired and create a comic of your own and share it with the world.
Better yourself. If you can, take an online class. Follow youtube tutorials on something you always wanted to try. Join a new group on Facebook and get active.
If we make it a point to better ourselves and the world around us, there is no telling how much better off the world will be once this pandemic passes. Stay safe and know that you are loved.
Ok, time for my only joke.