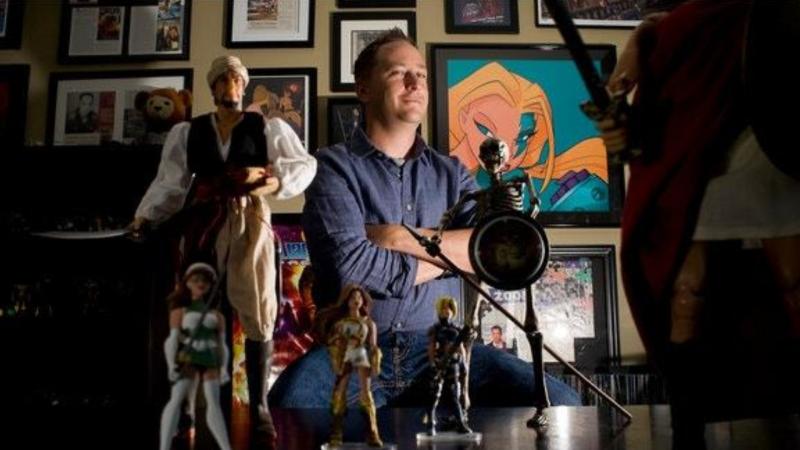 We had such a great time hosting comic icon Darren G. Davis of TidalWave Comics for his anniversary celebration! What an honor it was to be part of this event and celebrate 20 years of best-selling comics with Darren and his guests.
Starting with his publication of The 10th Muse, which quickly became a best-seller the November it was released in 2000, Darren has published over a thousand comics and graphic novels over the years, many that became top selling comics and internationally renowned. His comics have been featured in many publications like the New York Times and on TV, like Entertainment Tonight and CNN.
His true-fact comics have changed the face of the comic industry and brought new readers to invigorate sales.
Watch the anniversary celebration, and read more about this iconic man that has done so much for the industry.
A little about Darren, in his own words:
CC: Do you publish certain genres, or all comics?
DD: All types of comics - fiction and non-fiction
CC: Do you publish in print, digital, or both?
DD: Digital and print.
CC: How did you get started in Comic Book Publishing?
DD: I launched my 1st comic book in 2000 called the 10th Muse at Image Comics. I also worked for DC Comics for a while as well as the entertainment industry. 10th Muse was the 6th highest selling comic book when we launched it. Have been doing this for 20 years now.
CC: About how many Creators / comics have you published?
DD: 1,200 comic book and graphic novels.
CC: What do you like most about the comic publishing industry?
DD: the creativity of the medium. I love seeing the process from script to letters.
CC: Is there anything you'd like to see changed in the industry?
DD: Trying to get new readers to read comic books. In the 90's comic books sold 9 million now the top selling comic book sells less than 1000K copies. It is dying. Movies like the Avengers you would think help get more readers, but they do not. Also having comic book conventions where they showcase TV Shows is not helping the industry. Having the cast of Twilight at your show does not help comic book sales. It hurts because people line up to meet Mark Hammil rather than buying comic books. Also DC and Marvel should be advertising nationally - and not just with comic book stores. We need to do something more than FREE COMIC BOOK DAY. Start and get kids reading. I was a reluctant readers as a kid and my parents put a comic book in front of me. They can be used as a tool to help readers.
CC: What passions do you have outside of comics?
DD: My family and my dog.
CC: Do you have any advice for Creators looking to publish?
DD: Be nice to one another. Help people out when you can. Be respectful. It is a small industry with a lot of creative people. Giving freedom to artists and writers to express themselves is one of the best things I can suggest. Also give back to your community. Work with schools and libraries to help them push comic books and graphic novels. Do comic book 101's for them too. Also make sure when you produce a comic book get a good letterer - it can make or break a book.
---
A huge thanks to Darren and his guests for letting us host this exciting event! Congratulations on 20 years of publishing comics!
Connect with Darren / TidalWave Comics on
Twitter
, by following his page on
Facebook
, or by visiting the
website
.