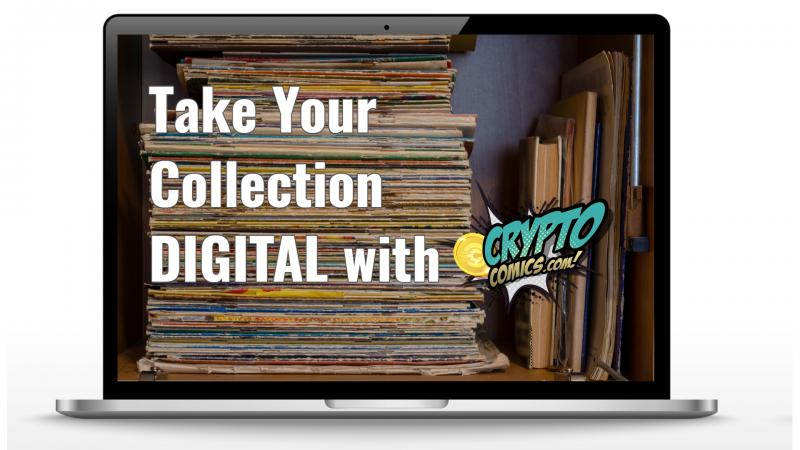 In this article, I want to go a little deeper and talk about what NFTs and digital collectibles will mean on the CryptoComics Marketplace.
Unlike most platforms out there, CC does more than just turn your digital item (comic book, art, action figure, etc) into a verified collectible (an NFT).
Let's review the NFT basics:
What is an NFT?
NFT stands for Non Fungible Token. A fungible token is exchangeable currency, like a dollar. If we exchange dollars, we end up with the same thing. But a non fungible token is something original that cannot be exchanged, like the Mona Lisa. Prints can be made, but the original is still the one and only Mona Lisa.
Blockchain has made it possible to turn digital items into non fungible tokens by offering a way to track and verify each item using complex mathematical algorithms and an open source "ledger".
With comics, we are using blockchain technology to turn each comic issue into a verified original. So, if you choose to publish 1000 issues of Your Comic Book #1, each issue will become an NFT. The blockchain is the technology used to verify that authenticity of each issue in the digital world, like authenticity papers verify a work of art as original in the real world.
What kind of Token does CryptoComics support?
CryptoComics supports a standard ERC 721 Token.
What does that mean?
You can publish your comic on the CryptoComics Marketplace, and each issue purchased will be minted, and become an original, collectible issue.
It will become an ERC 721 token (a unique item with a transferable identifier). An ERC 721 token that is being tracked using blockchain technology. This "token" or digital collectible can be stored or read in our community, or transferred and stored in your wallet (or sold).
More than Just an NFT
We wanted to do MORE than just create ERC 721 tokens, however. We wanted to completely change the way people buy and sell comics. Not only will your digital comics be collectible, we are building an active community to engage, buy, and resell those books.
And you won't just be selling a single piece of digital art. You are selling a comic or graphic novel that has intrinsic value on its own to readers, as well as the value of a unique, collectible digital asset. That is why we invested so much time and money in our digital reader to make it one of the best in the industry. We want our community to do more than collect: we want you to read and enjoy the books and art you're purchasing!
Can I sell things besides Comics?
Yes! You can upload any digital art, action figures, art books, graphic novels, children's books, music, or any digital item.
The way buyers view the items they purchase is through an advanced content delivery system, which we call our Digital Reader. We have invested a lot in this Digital Reader to create a fully immersive experience for collectors.
The Reader is designed for image books, such as Art Books, Comic Books, Graphic Novels, or Children's Books. It can be used to view any kind of digital collectible, however, and is one of the best in the industry.
Musicians can turn their music into NFTs through the Audio feature.
Digital Reader
The digital reader was designed to give readers an immersive way to experience their graphic novels, comics, art, and other collectibles. It includes the ability to use music, soundtracks, commentary, embed videos, links, and more.
It can be used with VR, or on any other device, to simulate the experience of reading a comic or viewing art books.
Request an invite
to experience the Digital Reader for free!
Residual Royalties
Another advantage of turning comics or graphic novels into NFTs is that each issue can be collected or resold by readers to other readers in the Marketplace. (And as an NFT / ERC 721 Token, the collectible can be transferred to another wallet outside of CryptoComics). The original creator / publisher will get paid royalties EVERY TIME the book, art, or other collectible is resold in the Marketplace.
As a creator or publisher, you can choose to limit the amount of copies being minted, and also publish and mint limited copies of variants or other unique, higher-selling items to increase the value of your NFT collectibles.
Digital Book Borrowing
Creators / Publishers can allow readers to borrow books at no cost.
Borrow time: You can limit that to 15 minutes, like a reader might page through a comic in a bookstore, or allow 1 week or more for the first book in a series to let readers get a feel for your writing style and if they enjoy your content. You set the time! The book reverts back to the owner once the borrowing period is over.
This is a great way for readers to find out if they like a series or creator's style. Creators can attract new readers by allowing first issues of series to be borrowed at no cost.
Bidding
We are building a bidding system that will allow readers to place a bid amount on your comics, and you can choose to accept bids on your comics, graphics novels, or other digital collectibles.
Readers, you can cancel your bid at any time if the book owner has not yet accepted your bid.
Auctions
Auctions on art, comics, and other digital collectibles will also be possible in the future. This will work similar to bidding, but for preset amount of time.
Trading
You will be able to trade comics, graphics novels, art, and other collectibles in the Marketplace. More details on this coming soon.
Will you need Ethereum to buy and sell in the Marketplace?
NFTs are generally purchased with cryptocurrency, such as Ethereum (ETH). Yes, you can use your ETH to buy and sell in the Marketplace. Watch for more details soon on how you can purchase Ethereum and use that to make purchases in the Marketplace.
You can also purchase with ComicCredits.
We are making it possible for buyers to purchase Credits, like you might purchase in a game app, to spend in the Marketplace. We understand that not everyone is comfortable setting up a wallet and buying Ethereum, but it is important that everyone have access to the great books and art in the Marketplace.
You can earn Credits in the Marketplace when people you invite buy and sell comics, like an invite reward program. This will help you earn free comics, just from inviting others!
Creators and publishers can also earn Credits from the readers they invite, so you know you're supporting your favorite creator if you join through their profile!
We want to reward people for engaging and supporting creators / publishers, which is why we've created the reward program to allow everyone the opportunity to earn Credits to spend in the Marketplace, and help build an active community.
How does Blockchain fit in?
Blockchain is the technology that makes minting digital books and art possible. Blockchain uses an online, decentralized network to verify each and every token (published book or art) as unique. Every time that token (your book or artwork) is transferred (sold), the blockchain will again verify that transaction and track it in the network of "ledgers".
Just like an original piece of art (like the Mona Lisa I mentioned at the beginning) has papers of authenticity to confirm it as THE ORIGINAL, the blockchain provides the digital confirmation of authenticity for each book or collectible item. You can make prints of a work of art, but it is never the ORIGINAL. The NFT is the original.
When it comes to books, each copy of a book that is "minted" or published on the blockchain as an NFT will become an ORIGINAL. Each original comic or NFT will be tracked through sales, resales, and trades, just like a print copy would. Each transaction is again verified on the blockchain.
CryptoComics uses the StacksNet(™) chain to verify all transactions within the Marketplace, which is also then verified against the official Ethereum Mainnet Blockchain anytime funds are added or removed from the Marketplace.
I know this is a lot of information, and we will keep adding more to help clarify NFTs, digital collectibles, and comic books!
Feel free to ask us any questions in the comments, or through your Dashboard support.