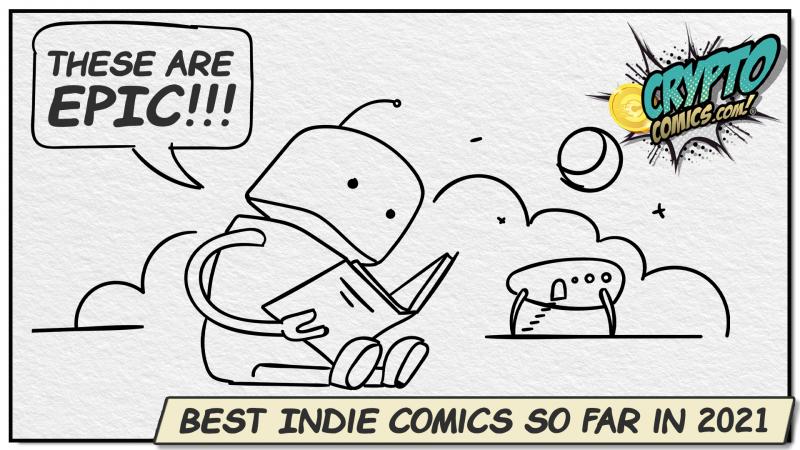 Welcome my CryptoComics Compatriots! I wanted to give you guys a must-have reading list of some Indie Comics. Before I break it down into different genres such as "Romance", "Action", or "Mystery", I just wanted to hit you with some of my personal favs on the market right now.
These are in no real order other than some of my personal favorites. I am not basing my decision on anything other than how I feel about them. No set metrics like the number of copies sold or any other analytics.
We here at CryptoComics are not personally endorsed by any of these publishers, this is just my personal reading recommendations. Now, on with the show.
Something is Killing the Children
Writer: James Tynion IV
Artist: Werther Dell'Edera
We've talked a lot about this one on our episodes of the CryptoComics Couch. This has got to be a personal favorite of both mine and Frey's.
A bunch of kids basically go missing in Archer's Peak. A few come back and have stories to tell that will make the hairs on the back of your neck stand straight up. In comes Erica Slaughter, the monster hunter.
If I go into too much more, I'll give everything away and I can't do that to ya. Its such a good read!
Once & Future
Writer: Kieron Gillen
Artist: Dan Mora
Ok, this one sounds like the plot of a B Movie but it's just SSSOOOOOOOO good! You have a bunch of evil people that bring an ancient myth to life. A grandmother who fought this kind of stuff before and leaves the retirement home to join her Museum Curator grandson on this adventure.
Everything is so off the wall and so well written that it works! The art is nothing to laugh at either. This team is top-notch!
Writer: Jemma Young
Artist: Chad Hardin
It has nothing to do with the fact that Chad & Jemma are friends of ours. This book is so addictive. It's like printed crack.
Jemma is one of those writers that gives you all the insight and entertainment you could ever need and lets you feel the personalities of each character. Chad is the artist that's crazy enough to actually pull off this masterpiece.
Side note: Check out the posters on the wall on page 22 panel 5. That's all I'm saying.
Nocterra
Writer: Scott Snyder
Artist: Tony Daniel
When I saw that the legendary Scott Snyder is teaming up with the phenomenal Tony Daniel for an Indie comic on Kickstarter, I couldn't get my wallet out fast enough. Best purchase of 2020 EVER!
It's on the 2021 list because that is when I received the book and let me tell you, perfection in every way. Think about this, the world is in an everlasting night that turns everything into a "shade" unless you stay close to the artificial light. Now you add Ferrymen (transport drivers) and you have a work of art that rivals Michael Turner's work.
The Department of Truth
Writer: James Tynion IV
Artist: Martin Simmonds
We've already featured one of Mr. Tynion's works with the Children series so some might think that we are favoring him by adding him again. I say no! He has 2 masterpieces out there that deserve every bit of recognition.
This is one that our own Jared Brague would eat up! What would you do if you discovered that every conspiracy theory was true? That's the case for Cole Turner. Lizardmen, flat earth, JFK, this has it all!
Grab your tinfoil hat and have a read!
The Devil's Red Bride
Writer: Sebastian Girner
Artist: John Bivens
This comic is as close to perfection as it gets. Thank the gods that this was made. The storytelling actually tugs at the heartstrings and the art is the perfect combo for this stylized story.
Feudal Japan has never looked so real. A woman by the name of Ketsuko leads a clan of Samurai on a bloody mission of revenge. When you find out who and why she picks a target, it's actually chilling.
After the Rain
Writer: John Jennings
Artist: David Brame
I was first introduced to African comics and storytelling with Katongo by Crypt-mysticPen. I can't get enough of it. A friend on Facebook recommended After the Rain. This is based on the work of Nnedi Okorafor's short story "On the Road". I have to admit that at the time of this writing, I have not read On the Road yet. I do plan on reading it soon.
This is all about the main character Chioma embracing her heritage in a supernatural setting.
Crossover
Writer: Donny Cates
Artist: DEE CUNNIFFE
Donny Cates, who we talked about last year because his Twitter rant brought to light the very industry problem CryptoComics is looking to solve, brings his A-Game from his work on Venom and Thor. Personally, I wasn't a huge fan of his Cosmic Ghost Rider, but that is just my opinion. If you asked Frey, he would tell you that it is one of the best comics of all time.
His new Indie comic is Crossover where the fantasies of every comic fan come to life. Basically, fictional characters join us in the real world. If you were a comic fan since you were a little kid, you can't tell me that you didn't dream of that.
More to Come
I am going to keep this list going. Next time I will be showing you some of the best "True to Life" Indie Comics. I will keep bringing you all the best Indie comics out there. Yes, this means that I get to read hundreds upon hundreds of comics for you. It's a tough job but someone has to do it.